Antonella Terrazas & Andrés Sautel
REGISTER NOW: Gotambó workshop on Saturday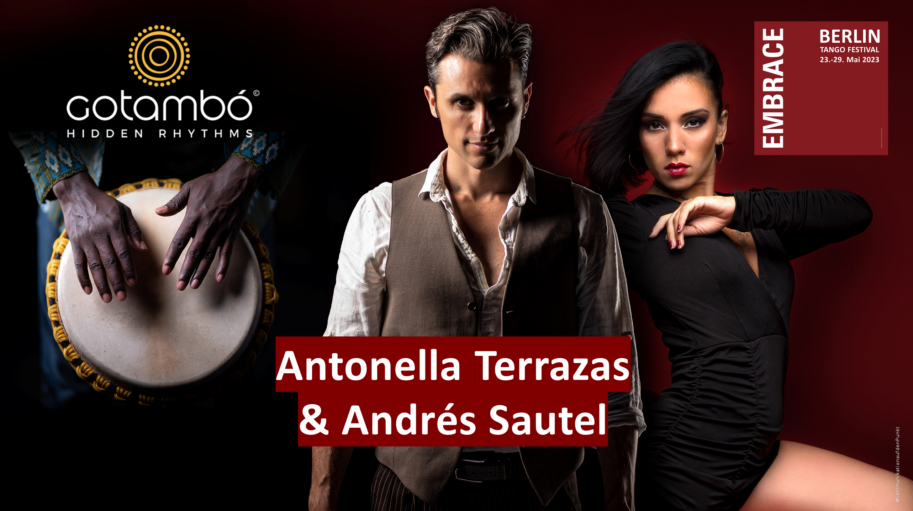 We are looking forward to Andrés Sautel and Antonella Terrazas teaching for the first time as maestros at EMBRACE in Mala Junta. With "Gotambó – Hidden Rhythms", the guest teachers offer a special and unique teaching experience: The two-hour workshop is dedicated to an (often neglected) element from the origins of Tango Argentino: the rhythms of African drums! Together we will explore the heart and soul of Argentine tango and its hidden rhythms!
The two-hour workshop consists of one hour of technique and one hour of free experimentation. Couples or individuals can participate. The lessons of Andrés and his partner Antonella will be accompanied by two professional percussionists drumming Afro-Argentine rhythms.
---
Saturday, 27. Mai 2023
19-21 Uhr: Workshop "Gotambó – Hidden Rhythms"
mit Antonella Terrazas & Andrés Sautel und zwei Musikern

Participation is free with prior registration (to the form)!
Adresse: Mala Junta, Kolonnenstraße 29, 10829 Berlin
---
The EMBRACE workshop is the start of a series with dates on June 14 and July 12.
---