GUEST MAESTROS: Carlos & Mirella Santos David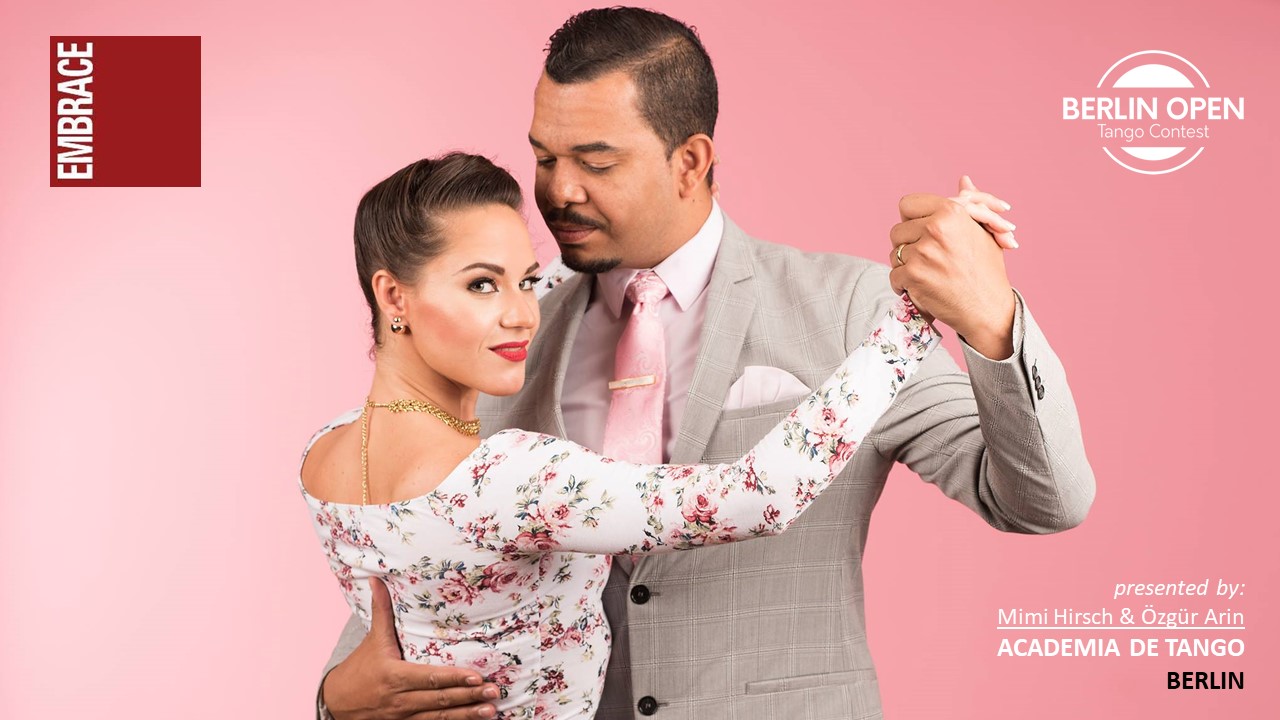 REGISTER NOW: Workshops from Tuesday to Sunday!
We are very blissed to welcome Carlos&Mirella to the EMBRACE Tango festival for the first time! Carlos&Mirella are known and loved for their elegance, subtlety and musical finesse as well as their spectacular and breath taking shows. The upcoming European star couple enthuses tango lovers around the world by their natural, humorous and well structered way of teaching. Ever since they won the European Championships in 2017 they make tango hearts beet even faster. The program 2019 is an EMBRACE Cooperation with BERLIN OPEN Tango Contest and Academia de Tango Berlin.
Dienstag, TUESDAY, 4 June 2019, 20h (tbc!)
20.21.30 WORKSHOP: Get Carried Away with Cadenas
Spice up your Dance with Cadenas. The chained circular movement that will bring you a beautiful Vals flow.
Level: Int-Adv, 90 min
23h RONDA de MAESTROS @ GRAN OPENING MILONGA of EMBRACE BERLIN Tango Festival
Location: Tangoloft, Gerichtstrasse 23 (tbc!)
Donnerstag, THURSDAY, 6 June 2019
WELCOME DANCE @ EMBRACE GRAN GALA BALL @ Rotes Rathaus Berlin
Freitag, FRIDAY, 7 June 2019, 16h
JURY @ BERLIN OPEN Tango Contest Qualification Round
Location: Lenaustrasse 3-4, 12047 Berlin
Samstag, SATURDAY, 8 June 2019, 16-17.30h
WORKSHOP: Get Confident in your Dance: Tango Technique
Connection, Posture & Flexibility in the Embrace
All levels, Both Roles
Location: Caminada, Böckhstraße 21, 10967 Berlin
Samstag, SATURDAY, 8 June 2019, 20h
WORKSHOP: The Art of Elegant Walking
If you can walk, you can dance! All about elegance, styles and musical possibilities!
Level: Int-Adv, 90 min
Location: Caminada, Böckhstraße 21, 10967 Berlin
Samstag, SATURDAY, 8th, 17.30-19.00h
JURY @ BERLIN OPEN Tango Contest SEMIFINALS
Location: Ballhaus Rixdorf, Kottbusser Damm 76, 10967 Berlin
Sonntag, SUNDAY, 9th, 17.00-18.30h,
17-18.30 WORKSHOP: Dancing on the spot: Pausas & Ornaments
Lessis more! A famous phrase that is actually too little applied when we dance Tango. Creating moments to reestablish the connection, creating moments to find space to adorn, and dance the pausas together!
Level: Int-Adv, 90 min
20h JURY @ BERLIN OPEN Tango Contest FINALS
23h PERFORMANCE @ GRAN MILONGA of EMBRACE BERLIN Tango Festival
Location: Walzer Linksgestrickt, Am Tempelhofer Berg 7d, 10965 Berlin
Montag, MONDAY, 10th: 15-17h,
SEMINAR: Introduction to Lifts and Jumps
How to lift and jump healthy, connected and with lots of fun!
Level: Adv/semi-professional/professional, 120min
Location: Aziza tanzt, Milastraße 4, 10437 Berlin
PREISE Workshops:
1 WS: 28/ 23 Eur
2 WS: 52/ 44 Eur
3 WS: 75/ 63 Eur
4 WS: 96/ 80 Eur
Seminar Lifts: 40/ 35 Eur
1 WS + Seminar 65/ 57 Eur
2 WS + Seminar 88/ 77 Eur
3 WS + Seminar 110/ 95 Eur
4 WS + Seminar 130/ 111 Eur
Sei dabei und sichere Dir jetzt einen Workshopplatz!
ANMELDUNGEN WORKSHOPS: info@academiadetangoberlin.com
Tickets Milongas & BERLIN OPEN Contest: www.berlinopen-tangocontest.de
Embrace-Programm: embrace-berlin.de