EMBRACE Gran Milonga & BERLIN OPEN KickOff @ Tangoloft
Thursday, 9 pm – 3 am
DJ: Krishna Olmedo
Dances & Show: Horacio Godoy & Cecilia Berra, Gioia Abballe & Simone Facchini, Susanne Opitz & Rafael Bush
Welcome-Ronda: Jury & Teilnehmende des BERLIN OPEN Tango Contest
Workshop (19-20:30 Uhr): Understanding D'Arienzo – History and Musicality mit Horacio & Cecilia
Workshop (19:30-21:00 Uhr): Giro de 8" a study of Sacadas mit Gioia & Simone
The TangoLoft hosts the EMBRACE Gran Milonga. The atmospheric floor stands for the unique flair, the dancing variety and the stylistic openness of the Berlin tango. The loft founders Mona and Henning have created a worldwide known and unique tango venue in the trendy district of Wedding. Unfortunately Tangogloft has to close in summer 2020. We want to celebrate a smoking farewell party!
This year's Guest-Maestros couples – the tango legends Horacio Godoy & Cecilia Berra (Argentina) as well as the Tango European champions and vice world champions Gioia Abballe & Simone Facchini (Italy) – introduce themselves in Welcome Dances.
We are pleased to honor Susanne Opitz & Rafael Bush for their services to the Berlin Tango this year. The name of her school Tango tanzen macht schön (dance tango makes beautiful) stands for her special approach. We are happy that you are dancing for us!
A special feature in festival edition is the BERLIN OPEN Tango Contest – the participants will perform a welcome ronda and the international jury will be introduced to the public.
---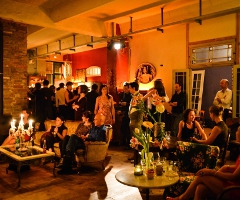 Tangoloft*,
Gerichtstr. 23,
13347 Berlin
(S41/42_U6>>>Wedding)
Foto:Harald Keller