EMBRACE GRAN MILONGA & BERLIN OPEN Semifinale @ Ballhaus Rixdorf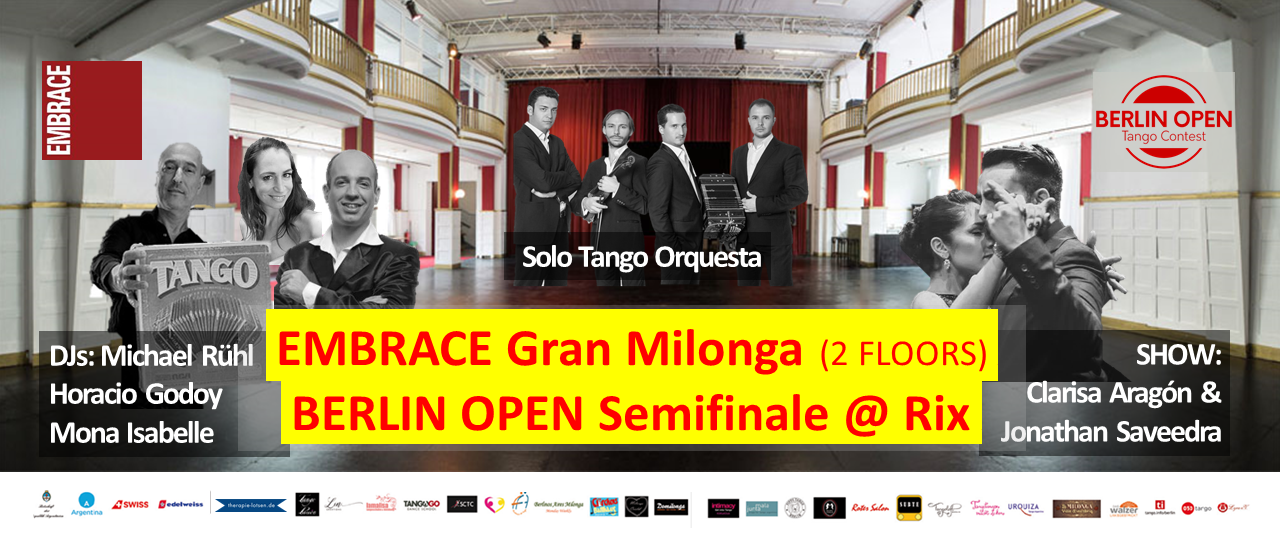 20-21:00 Uhr: BERLIN OPEN Tango Contest – Seminfinale
22:00-4:00 Uhr: EMBRACE GRAN MILONGA Tangonacht @ Ballhaus Rixdorf
Show: Jonathan Saavedra & Clarisa Aragón
Live-Musik: Solo Tango Orquesta (Moskau)
DJ – Main Floor (trad.): Michael Rühl & Horacio Godoy / DJ – Studio (Nuevo & Modern): Mona Isabelle & Team

Fashion & Shoes (1. Stock): BETTINA MARIA by Costume Couture Berlin, Lamalisa Tango Boutique, Lin Creations
Built in 1910 Ballhaus Rixdorf is located exactly on the border of hip districts Kreuzberg and Neukölln. The notorious ballrooms have a glorious Tango history: Felix Hahme and Michael Rühl launched there in 1988 Europe's first regular Gran Milonga. Later, the "Rix" also served as the ballroom of the International Tango Festival Berlin, which offered the who-who-who of tango a great stage from 1998 to 2013. This year, on Saturday, it will be used as a festival center with a tango café, the semifinals of the BERLIN OPEN Tango Contest and a Gran Milonga on two dance floors.
We dance to the music of the DJs Michael Rühl and Horacio Godoy as well as live music of the world-famous solo Tango Orquesta from Moscow. Jonathan Saavedra & Clarisa Aragón will perfom for us. The young world champion couple from Cordoba (Argentina) embodies in an inimitable way the grace and passion of the tango. Jonathan and Clarisa are guest of the Tango School Mala Junta and give workshops there.
Anyone looking for tango fashion and shoes can find a selection from the men's and women's suppliers.
---
Ballhaus Rixdorf,
Kottbusser Damm 76,
10967 Berlin ( U8>>>Schönleinstrasse)