Daniela Feilcke-Wolff & Raimund Schlie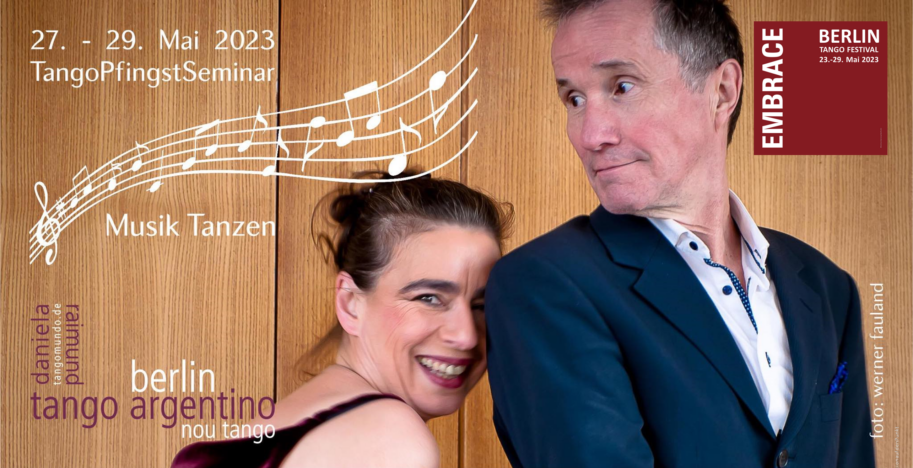 REGISTER NOW: Pentecost Seminar "Dancing Music" from Saturday to Monday.
We are looking forward to the Pentecost Seminar "Dancing Music" by Daniela and Raimund.
Dancing music means to float on the wave of sounds! You don't have to be a music expert to enjoy it. If you open your ears and dive into the world of rhythm, melodies, phrases, legato and staccato, the way to dance is not far. New possibilities of expression open up, because dancing can be much more than the sum of known step combinations! The intensive seminar is meant to help with this learning process. Daniela & Raimund have together almost 20 years of teaching experience and are specialized in close embrace and musicality.
Schedule/Schedule
Saturday. May 27.
5:00pm – 8:30pm: The different eras of tango and how/what to dance to them!
Sunday, .May 28
13:00 – 16:30: Rhythmic playfulness, different rhythmic modules and how to implement them in dance!
Monday, May 29
13:00 – 16:30: The instruments in Tango, how they have changed and influence the quality of our movement!
---
Anmeldung:
daniela@tangomundo.de
0049/172/32 32 152
Price: 180 € per person (incl. breaks & small snack)
---
Address: nou Tango Berlin, Chausseestraße 102, Berlin Mitte
---