GRAND MILONGA @ BALLHAUS RIXDORF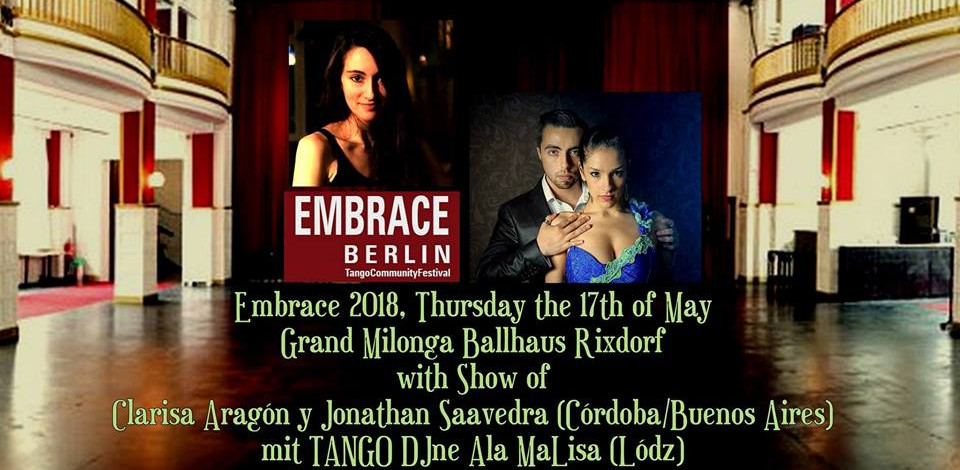 8pm-3:30am: Grand  Milonga @ Ballhaus Rixdorf
Eintritt:12 €
Show: Jonathan Saavedra & Clarisa Aragón
DJ: Ala MaLisa (Lódz)

Built in 1910, the Ballhaus Rixdorf is located exactly on the border of the hip districts Kreuzberg and Neukölln. This notorious ballroom literally bursts of glorious Tangohistory. In 1988 Felix Hahme and Michael Rühl started the first regular Grand Milonga. Later on, the "Rix" served as the main location for the International Tango Festival Berlin, where the who-is-who of Tango, including legends like Alberto Podesta performed. Tying on to this great legacy, Felix Hahme leaves his present milonga domicile, the Villa Kreuzberg, for the EMBRACE-Thursday to organize once more a Grand Milonga at Ballhaus Rixdorf.
The show of this night will be performed by the internationally acclaimed world champions of 2015, Jonathan Saavedra & Clarisa Aragón. This young couple from Cordoba (Argentina) epitomizes the grace and passion associated with Tango. Ever since they won their champions title in 2015 at age 20, they capture the hearts of Tango-lovers all around the globe. In 2017 they enthralled the EMBRACE audience in their stage show and milonga performances, and proved to be outstanding teachers. This year they will give workshops at EMBRACE on Tuesday and Wednesday.
The DJ of the GRAND MILONGA @ BALLHAUS RIXDORF Ala MaLisa will play traditional sets of tandas. This tanguera, originally from Lódz, has made her name as organizer of the milonga Cristal and as a teacher in Mala Junta. As a DJ, Ala MaLisa is touring extensively to play at many marathons and festivals.
---
Ballhaus Rixdorf
Kottbusser Damm 76
10967 Berlin
(U8>>> Schönleinstrasse)