EMBRACE GRAN MILONGA: Opening @ Tangoloft
Tuesday, 21 pm – 3 am
DJ: Horacio Godoy
Show: Valentina Massari & Krishna Olmedo
Berlin Teachers&Schools Ronda: Dilara Ogretmen & Felix Naschke (Mala Junta), Daniela Feilcke-Wolf & Raimund Schlie (La Berlinesa)
Workshop (7– 8:30 pm): "Vintage Milonguero Moves" with Horacio Godoy & Cecilia Berra
At the 7th edition of EMBRACE, TangoLoft provides the framework for GRAND OPENING. The atmospheric floor with several salons stands for the unique flair, the dancing variety and the stylistic openness of the Berlin tango. The loft founders Mona and Henning have created a globally known and unique location in the trendy district of Wedding, which is often booked as a scenic film and event location.
We are happy to welcome Valentina Massari & Krishna Olmedo to EMBRACE for the first time! The newcomer couple from Buenos Aires are touring Europe for the first time. The Berlin dance schools and teachers, who offer workshops on EMBRRACE, introduce themselves in a Ronda.
Guest-Maestros Horacio Godoy & Cecilia Berra will start their "Tango University" with a workshop.
---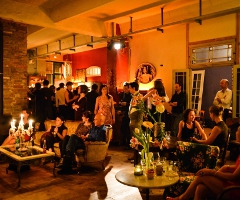 Tangoloft*,
Gerichtstr. 23,
13347 Berlin
(S41/42_U6>>>Wedding)
Foto:Harald Keller