La Milonga que faltaba @Mala Junta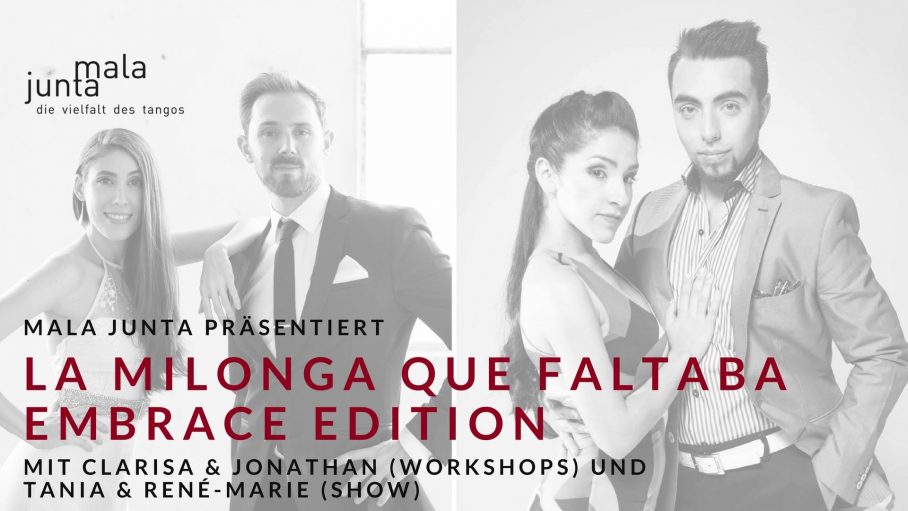 21:15-1 Uhr: La Milonga que Faltaba – Special Edition @ Mala Junta
DJ: Carlos David Santos
Show: Tania Heer & René-Marie Meignan (Lyon)
Admission: 6 EUR
Workshop (19:45 Uhr): Milonga – get the groove! with Tania Heer & René-Marie (20 Euro incl. admission milonga /15 EUR erm.)
Workshop (21:15 Uhr): Caminata: technique and tools for dancing fluidly (alle Niveaus) with Clarisa Aragón & Jonathan Saavedra (30 EUR / 25 EUR erm.)
Since 2003 the Tango school Mala Junta offers an extensive program of courses in Schöneberg and hosts favored milongas (Café Dominguez) and marathons (High Noon, October Fiesta). Every Wednesday Mala Junta invites to its very own milonga and the monthly special "La Milonga que faltaba" with guest DJ's and show dances.
For EMBRACE, the host Judith Preuss put up a XXL-sized "Milonga que faltaba": the world champions Jonathan Saavedra & Clarisa Aragón teach 2 workshops, the show by Tania Heer & René Marie Meingan (Lyon/France) commends themselves as guest teachers and Carlos David Santos will put the music for the milonga.
Jonathan Saavedra & Clarisa Aragón epitomize the grace and passion associated with Tango. Ever since they won their champions title in 2015 at age 20, they capture the hearts of Tango-lovers all around the globe. In 2017 they enthralled the EMBRACE audience in their stage show and milonga performances, and proved to be outstanding teachers. This year they will give workshops at EMBRACE from Wednesday to Sunday.
---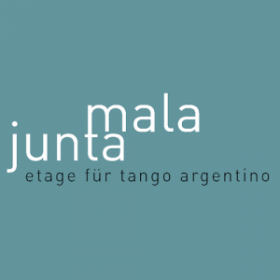 Mala Junta*
(3 Hof, 4. Stock),
Kolonnenstr. 29,
10829 Berlin
(S1>>>Julius-Leber-Brücke)