Horacio Godoy & Maricel Giacomini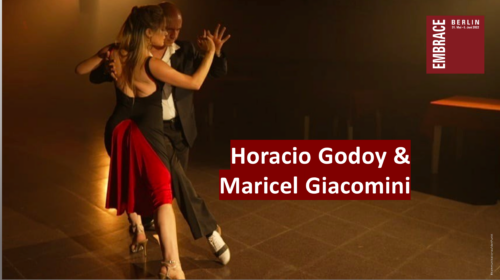 Register now for the Tango University! This intensive program of eight workshops combines methods of teaching that are as universal as they are fun. All workshops will be held in English.
Horacio & Maricel dance a show at the intimacy milonga on Sunday night at the world famous KitKatClub.
As DJ, Horacio, whose milonga "La Viruta" enjoys cult status in Buenos Aires, can of course also be heard. Horacio is participating in EMBRACE for the sixth time.
Registration for the workshops offers the online form of the provider.
8 Seminars with Horacio PBT Godoy and Maricel Giacomini
Program:
(WS1): 01.06 Wednesday 20:00-21:30 "Milonga"
(WS2): 02.06 Thursday 18:00-19:30 "Golden 30s: Milonguero Style"
(WS3): 02.06 Thursday 19:45 -21:15 "The 40s: Tango Salon"
(WS4): 03.06 Friday 17:30-19:00 "Conception of Roles: Dancing together vs. leading & following"
(WS5): 03.06 Friday 19:00-20:30 "Dynamics with Pugliese & Diaz"
(WS6): 04.06 Saturday 14:00-15:30 "Advanced Musicality I"
(WS7): 04.06 Saturday 15:30-17:00 Advanced Musicality II
(WS8): 05.06 Sunday 19:30-21:00 Volcadas in back ochos (In KitKatClub)
Tango Show: Sunday 5. June: Intimacy at KitKatClub
DJ Sets of Horacio Godoy:
"Milonga Popular" Friday 3. June
Tickets – Early Bird till 30.4.22:
1 Workshop: 30 Euros
2 Workshops: 55 Euros
4 Workshops: 100 Euros
6 Workshops: 145 Euros
8 Workshops: 180 Euros
Seminars are "La Viruta"-Style: You can also book alone, we change partners a lot and gender is mainly balanced.
All seminars in La Mambita, Mehringdamm 33, 10961 Berlin, 2. Backyard 3. floor
Door Code: 1357
Seminar 8 in KitKatClub, Brückenstr. 1
Contact:
pebeteberlin@gmail.com
0172-6323210