BE BERLIN!
We would like to thank you for a magical, wonderful, intense, sleepless and unique EMBRACE week!
WATCH NOW: show dances on 030 Tango!
We wish you many beautiful tandas – at local milongas as well as festivals and marathons!
SAVE THE DATE: MAY, 23-29, 2023
We are looking forward to seeing you again at #EMBRACE23 to dive into the unique #BerlinTangoVibe!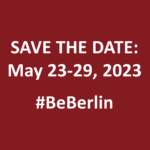 The Berlin organizers use this energy of spring to create a colorful program for EMBRACE. The festival makes visible – as always during the week of Pentecost – what makes tango in Berlin so special: Venues designed with love, roaring milongas, professional tango artists and of course the many passionate dancers! We are excited that tango schools and organizers are working together to present the Berlin Tango Week. We are thrilled to dance in new locations this time as well. We are looking forward to a wonderful festival week.
---
Our Media Partners