Horacio Godoy & Maricel Giacomini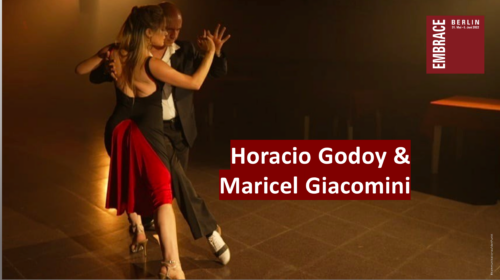 Jetzt anmelden für die "Tango University"! Das intensive Programm mit acht Workshops verbindet ebenso universelle wie unterhaltsame Methoden des Unterrichtens. Alle Workshops finden auf Englisch statt.
Horacio & Maricel tanzen bei der intimacy-Milonga am Sonntagabend in dem weltberühmten KitKatClub eine Show.
Als DJ ist Horacio, dessen Milonga "La Viruta" in Bueonos Aires Kultstatus genießt,  bei der Milonga Poplar am Freitagabend. Horacio nimmt bereits zum sechsten Mal bei EMBRACE teil.
Anmeldung für die Workshops bietet das Online-Formular des Anbieters.
8 Seminars with Horacio PBT Godoy and Maricel Giacomini
Program:
(WS1): 01.06 Wednesday 20:00-21:30 "Milonga"
(WS2): 02.06 Thursday 18:00-19:30 "Golden 30s: Milonguero Style"
(WS3): 02.06 Thursday 19:45 -21:15 "The 40s: Tango Salon"
(WS4): 03.06 Friday 17:30-19:00 "Conception of Roles: Dancing together vs. leading & following"
(WS5): 03.06 Friday 19:00-20:30 "Dynamics with Pugliese & Diaz"
(WS6): 04.06 Saturday 14:00-15:30 "Advanced Musicality I"
(WS7): 04.06 Saturday 15:30-17:00 Advanced Musicality II
(WS8): 05.06 Sunday 19:30-21:00 Volcadas in back ochos (In KitKatClub)
Tango Show: Sunday 5. June: Intimacy at KitKatClub
DJ Sets of Horacio Godoy:
"Milonga Popular" Friday 3. June
Tickets – Early Bird till 30.4.22:
1 Workshop: 30 Euros
2 Workshops: 55 Euros
4 Workshops: 100 Euros
6 Workshops: 145 Euros
8 Workshops: 180 Euros
Seminars are "La Viruta"-Style: You can also book alone, we change partners a lot and gender is mainly balanced.
All seminars in La Mambita, Mehringdamm 33, 10961 Berlin, 2. Backyard 3. floor
Door Code: 1357
Seminar 8 in KitKatClub, Brückenstr. 1
Contact:
pebeteberlin@gmail.com
0172-6323210