BE BERLIN!
Wir möchen Euch für eine zauberhafte, wundervolle, intensive, schlaflose und einzigartige EMBRACE-Woche ganz herzlich danken!
JETZT ANSCHAUEN: Show Tänze auf 030 Tango!
Wir wünschen Euch viele schönes Tandas – auf lokalen Milongas ebenso wie auch Festivals und Marathons!
SAVE THE DATE: MAY, 23-29, 2023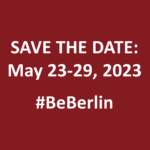 Wir freuen uns, Euch spätestens bei #EMBRACE23 wieder zu sehen, um in den einzigartigen #BerlinTangoVibe einzutauchen!
---
Our Media Partners