Sabrina Amuchastegui & Mauro Caiazza
REGISTER NOW: Workshops on Monday & Show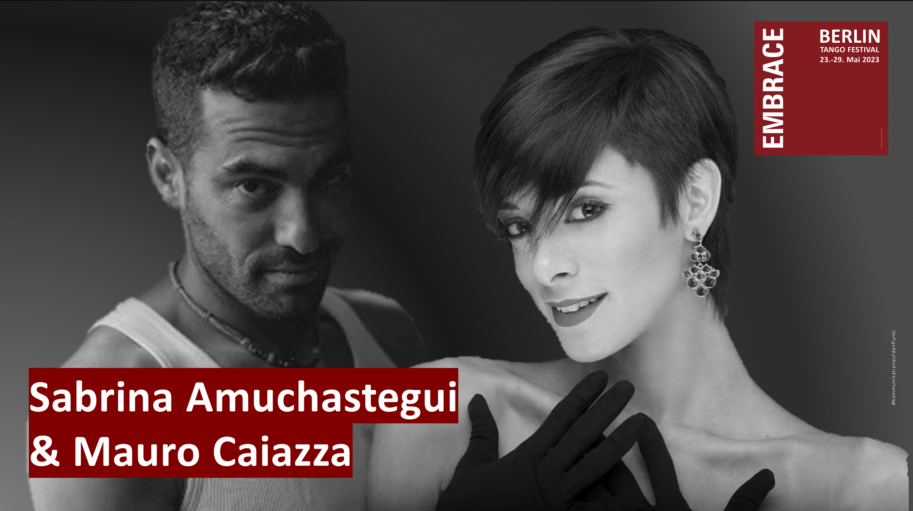 We look forward to Sabrina Amuchastegui & Mauro Caiazza at Embrace23! The Argentine couple will hold workshops and dance a show at the Berlinos Aires Milonga on Monday at the invitation of Hsiao Wang Wendy.
Workshops, Monday May 2023
Workshops are only for couples who has experiences with Tango dancing/ Stage/ Performance. The workshop conbinations must be included WS 1.
Price: p/P/ WS 30 Euro / with reduced Milonga entrace fee: 10 Euro p/P
WS1: 1.30- 2.45 pm: ,
Technique preparation for the couples in group, Body Connections/ Embrace/ Dynamic circulation movments
Technikvorbereitung für die Paare in der Gruppe, Körperverbindungen / Umarmung / Dynamische Zirkulationsbewegungen.
Técnica de movimiento, Abrazo, Circularidad
WS2: 3.00- 4.15 pm,
How to use the muscles behind the knees to make foot sweeps & ganchos in boleos.
Wie man die Muskeln hinter den Knien verwendet, um Fußfeger & Ganchos in Boleos zu machen.
Fosa poplítea, Barridas y Ganchos en los boleos
WS3: 3. 4.30-5.45 pm,
Foot position for composure and floating movements.
Fußstellung für Gelassenheit und schwebende Bewegungen.
Punto de apoyo, contención y Flotación
Anmeldung: hsiao@t-online.de oder WhattsApp: +49 173 2016601.
---
Milonga
19-24 Uhr
EMBRACE MILONGA Berlinos Aires @ Rathaus Schöneberg
DJ: Aaron Benchimol
Show: Sabrina Amuchastegui & Mauro Caiazza (ca. 21:30)
Eintritt: 15 EUR (Support 20  EUR, Student: 10 EUR)
---
Adresse: Rathaus Schöneberg, John-F-Kennedy-Platz, 10825 Berlin